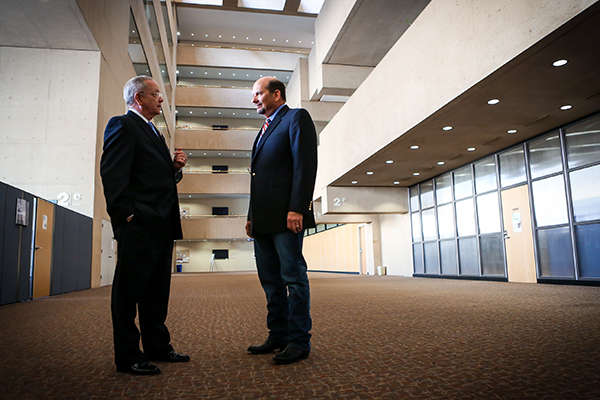 Texas One Star Foundation
In 2016, Skinner was appointed by Republican Texas Governor Greg Abbott to the One Star Foundation of Texas, which oversees the distribution of federal funds to local communities. One Star promotes volunteerism, community service and oversees the administration of the AmeriCorps programs as prescribed by National Corporation for National and Community Service(CNCS). The foundation oversees the State of Texas Governor's Mentoring Initiative, Governor's Volunteer Leadership Conference in addition to Governor's Faith-Based and Community Initiative.
San Antonio Christian Leadership Coalition
In 2014, Skinner began consulting and sharing his model of city transformation with city leaders in San Antonio, Texas. A partnership with Daily Bread Ministries, one of the largest non-governmental warehouses in Texas, began in 2014 and continues today with Daily Bread Ministries 140 feeding sites across the city of San Antonio. In addition, Skinner has worked with the San Antonio Baptist Association and helping prepare its 300 churches for city transformation. He helped assist in the formation of the San Antonio Christian Leadership Coalition that has over a hundred leaders working in seven areas of influence over the city.
Corpus Christi Transformation Project
In 2015, Skinner met with former Corpus Christi Mayor Joe Adame and began working toward a solution to the buyout of over 500 historic homes in the minority community called Hillcrest. In 2017, Skinner helped facilitate bringing the largest South Texas Homebuilder called Braselton Homes to purchase acreage to help relocate the Hillcrest community with new mixed income housing. The community is Corpus Christi's newest urban revitalization effort with planned green spaces, chapel and community centers with urban and mission families living every fifteen homesto help the community succeed. It is also supported by over 30 organizations to ensure the success of homeownership, job creation, and support services in holistic care.
United States Global Leadership Coalition
In 2015, Randy Skinner was asked to become part of the Texas delegation of noted leaders from Texas in the political, academic, business, and faith community to represent Texas as a member of the U.S. Global Leadership Coalition (USGLC). Led by the Honorable Gen. Colin Powell as Chairman, the coalition is a broad-based influential network of 400 businesses and NGOs; national security and foreign policy experts; and business, faith-based, academic and community leaders in all 50 states who support a smart power approach of elevating diplomacy and development alongside defense in order to build a better, safer world.
Noted leaders such as Former Sec. of State Condoleeza Rice, Sen. Bob Corker (R-TN), Sen. Marco Rubio (R-FL.), Sen. Bill Bradley (D-NJ), Gov. Bill Richardson (D-NM), Sec. of State James Baker III, are involved as are organizations such as Catholic Relief and World Vision.
WHY IT MATTERS
In today's interconnected world, America must use all of the instruments of national security and foreign policy at its disposal. America's smart power tools of diplomacy and development are underfunded and undermanned, which is why the USGLC supports a strong and effective International Affairs Budget for:

Protecting National Security by fighting terrorism, stabilizing weak and fragile states, combating weapons proliferation and promoting global stability;
Building Economic Prosperity by developing international markets, driving economic development, building micro-enterprises and expanding exports;
Strengthening Humanitarian Values by saving lives, alleviating global poverty, fighting HIV/AIDS and other infectious diseases as well as hunger, expanding educational opportunities and strengthening democratic institutions.
WHAT WE DO
The Texas USGLC works throughout the state of Texas and in our nations capital and across the country to educate and inspire support from the American public and policymakers on the importance of America's civilian-led tools of diplomacy and development.
The economy of Texas is one of the largest economies in the United States. As of 2013, Texas is home to six of the top 50 companies on the Fortune 500 list and 51 overall, (third most after New York and California). In 2012, Texas grossed more than $264.7 billion a year in exports—more than exports of California ($161.9 billion) and New York ($81.4 billion) combined. As a sovereign country (in 2012), Texas would be the 14th largest economy in the world by GDP (ahead of South Korea and the Netherlands).
The Texas USGLC is working to make the smart power tools of diplomacy and development a keystone of America's engagement with the world and making sure Texas is in the forefront.
City Leadership with Congressional Black Caucus Scholarship Committee
The Congressional Black Caucus Scholarship Committee of the 30th Congressional District oversees scholarships to students of all ethnic backgrounds that show leadership, academic excellence, and community servant leadership. Randy Skinner was appointed by Congresswoman Eddie Bernice Johnson, along with five other leading citizens to oversee the committee in the fall of 2010. Skinner served from 2010 to 2014.
The five member committee evaluates scholarship applications from students living in Johnson's southern Dallas district to ensure that applicants meet the foundation's rules. The committee works diligently to make sure all students that receive the scholarships in an ethical and fair manner.
Congresswoman Eddie Bernice Johnson (born December 3, 1935) is a politician from the state of Texas, currently representing the state's 30th congressional district in the United States House of Representatives. Congresswoman Johnson has received high marks from Republican and Democratic representatives for her work in North Texas.
The members of the 2010 to 2013 CBCSC committee were Roscoe Smith, former Dallas Independent School District Administrator; Mavis Knight, a member of the State Board of Education; Randy Skinner, chairman of the Dallas Ethics Advisory Commission; Raul M. Magdaleno, director for diversity and outreach at Southern Methodist University's Meadows School of the Arts; and Al Roberts, professor emeritus in education at Paul Quinn College.
---
Skinner regularly consults with leaders from across the United States on community transformation. He has also served on relief and transformational work with governmental and spiritual leaders in Africa, Turkey, Germany, South Korea, China, Mexico, as well as other third-world countries under oppressive dictatorships.